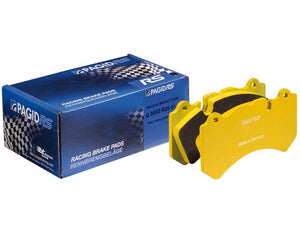 Kaplhenke Racing LLC
240 Medium Brake Upgrade Front Pagid RSL29 Pads
Regular price
$323.00
$0.00
Unit price
per
This pad is compatible with the Brembo Calipers that we sell adapters for in our medium brake upgrade kit, these are not compatible with the stock 240 front Girling calipers.
We use this pad compound on our Endurance racing Volvo 850.   We typically can get 3 14 hr track sessions out of 1 set.   The pads are very expensive but their use per hour makes them a surprisingly economical option for the performance and durability that you get.
We do not recommend these for daily driving use,
Pagid RSL29 is an endurance race pad based on (and replacing) the popular RSL19, with similar friction levels, slightly higher initial bite, and more stable at higher temperatures. Very long-lasting and unusually rotor friendly.

---